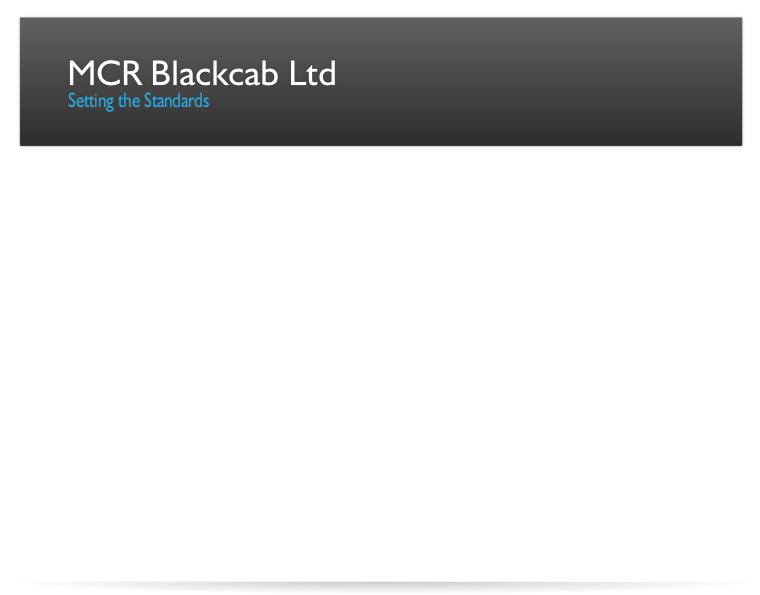 MCR Blackcab is owned and run by husband and wife team to a very high standard, the company at present of spring 2020 as in excess of 80 vehicles to meet a steadily growing demand......
MCR Blackcab was formed in April of 2005 to supply a first class chauffeur style driven and dependable service. The company went through some major transitions in 2012 when it was joined by a female proprietor since then we have expanded to meet a steadily growing demand and at the present time of 2020 the fleet consists of 80 vehicles of which all are EURO FIVE or EURO SIX emission standard, we were the first company in Manchester to have an all electric vehicle ('0' emission) that we have now extended to five at present, this means we meet the Manchester Climate program 2020 and the increasing demand for greener vehicles in the city of Manchester. We provide a round the clock support to many business and education establishments. Regular monitoring and evaluation of our performance and careful eye on our customers needs ensures that we continue to deliver a consistently high quality service. By the spring of 2020 MCR Blackcab completed in excess of 119,600 passenger journeys since its conception. To enable us to provide an on-time, every time appointment we prefer that our business clientele is either pre-booked the day before if journeys are known or a minimum two hours notice given otherwise. In return, we will guarantee to meet 100% of bookings on-time, every time.
This approach has stood us in good stead for some time and we have complete confidence that it will continue to foster and maintain a good relationship with all our customers.